All Alignment Services Include:
Visual inspection of A/C components

Perform system state of charge test

Perform system control test

Add refrigerant according to OEM specifications

Perform leak test with electronic leak detector
Automotive Air Conditioning in Provo
Does the air conditioning in your vehicle need a boost? All automotive A/C systems need a recharge over time. While there are plenty of place you could take your car to, no one is more committed to quality than Cougar Tire in Provo. We'll test your A/C system and give you an honest opinion on whether a recharge would help your system work better and keep you cool on hot summer days.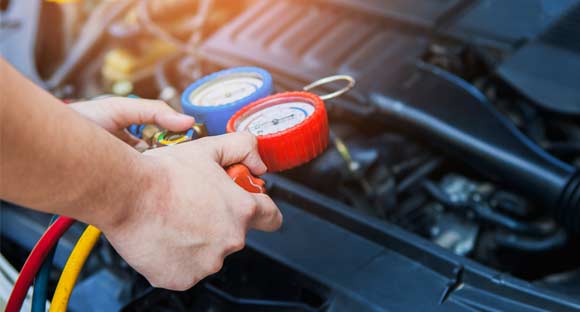 The average cost to recharge an A/C unit for an average-size sedan in Provo is around $120 – $150, depending on the vehicle and how much refrigerant is needed. In our experience, the average price for an A/C recharge for our customers historically is usually around $80 or less. At Cougar Tire, we charge only $39.95 for the service itself, plus $19.95 per pound of refrigerant that we end up using. Many have been under $60, all depending on the variables we described.
How do I know if and when I might need an A/C recharge?
Generally, you will know you need to recharge our car's AC when you notice that the cooling system isn't keeping the car cool enough on hot days. If you notice the cabin temperature of your car not cooling down quickly, or if it has stopped blowing cool air altogether, it may be time for a recharge service. Sometimes A/C issues can be caused by leaky refrigerant. If the air conditioning refrigerant isn't filled to manufacturer specifications, your A/C will not function properly.
Can I do it myself?
While this service can be done by someone with general knowledge and automotive skill, we recommend leaving this one to the professionals for a couple of reasons.
Safety: Automotive air conditioning equipment isn't all that complicated, but the procedure does need to be done right to avoid potential safety concerns. It's not just a matter of adding freon. Existing refrigerant needs to be evacuated from the system so it doesn't mix with the new refrigerant. It takes the experience, knowledge, and equipment to get this done right.
Damage: If your car's A/C needs refrigerant, the question we need to answer is why. Is there a leak somewhere? If so, we need to isolate the leak to fix the problem or the new refrigerant will simply exit the leak as well and you'll be back to square one. Also, too much refrigerant can actually reduce the system's cooling ability and potentially cause the a system shutdown.
At Campus Tire Pros, we do the job right. And we do it at the absolute lowest price on the market to save you money.
Maintenance FAQs
If your car's A/C system is not performing adequately and it takes a long time to cool the inside of your vehicle down, it may be time to get your A/C serviced. When we service your air conditioning unit, we test for leaks and make sure system components are operating correctly. We then add the proper refrigerant to OEM specs and to the correct pressurization according to standard procedures.
Why Cougar Tire for AC Recharge in Provo?
Cougar Tire offers the most comprehensive service protection in Utah. When you buy from Cougar Tire, you'll have the peace of mind that you are protected by our: