Multipoint Vehicle Inspection
All Multipoint Vehicle Inspections Include:
Complete examination of all major vehicle systems by certified technicians

Detailed report of inspection findings

Any safety-related concerns or issues

Explanation of what really should done in the near future and what can wait

Proposed maintenance schedule for your make/model

Cost estimate for any repairs you may want to consider

Free loaner car or shuttle while we perform the inspection
Multipoint Vehicle Inspection in Provo
When you take your vehicle to the shop, you usually want to get in and out as quickly as possible. However, taking the time to have a multipoint vehicle inspection in Provo can help you save money and time on more costly repairs down the road. With a vehicle checkup in Provo, you gain a better understanding of what is happening with your car, truck or SUV. At Cougar Tire & Auto, we make it fast and easy for the Provo community to get a multipoint car inspection. If you prefer to wait in our lobby, we'll have you in and out in about an hour. If you'd like to drop your car off, we offer free loaner cars for your convenience. Just ask at the counter to see if a loaner car is available when you arrive.
We offer three types of multipoint vehicle inspections:
FREE 21-point Vehicle Inspection with every oil change (25 minutes)
Used Car 36-point Inspection (1 full hour)
Trip Check 36-point Inspection (1 full hour)
When you get a vehicle inspection, it's critical that you visit a shop with certified technicians and a good reputation. At Cougar Tire & Auto, we provide top-notch multipoint vehicle inspections for a variety of reasons in Provo and we only do it with the best mechanic talent available.
Reasons to Get a Vehicle Checkup in Provo
Is there ever a bad time to have a multipoint inspection on your vehicle? Not really! It's good to have a complete inspection of your car every year to ensure it is in great working condition. However, here are a few other times you should consider bringing your vehicle to Cougar Tire & Auto for a checkup.
Buying a Used Car
If you are test driving a pre-owned vehicle, you should consider coming to Cougar Tire & Auto for a used car inspection in Provo. Our trained technicians ensure there aren't any surprises lurking in the vehicle you plan to buy.
Selling a Used Car
If you plan to sell your car to a private party, having a complete vehicle check first will help. With your multipoint inspection, you can inspire buyer confidence and get more money for your vehicle.
Going on a Road Trip
Before you pack the trunk with your suitcases, visit Cougar Tire & Auto for your Provo trip check. Our team of experts will help you fix problems before you head out on the road. With our in-depth evaluation, you can avoid a breakdown, which would ruin that perfect trip.
Change of Seasons
As the weather starts to change, driving conditions will also be altered. To ensure your vehicle is ready, consider getting a car checkup in Provo.
What's Included with a Multipoint Inspection?
At Cougar Tire & Auto, we ensure every vital system of your vehicle is running the way it should. Generally speaking, you can expect us to look at these essential components when you bring in your vehicle.
Under the Hood Inspection
Engine/Oil
Your vehicle requires oil to lubricate the internal parts and reduce friction. Our technicians check the oil level and ensure it is clean. If the levels are low, it might indicate a leak, which can cause engine damage. When the oil is dirty, an oil and filter change will be recommended.
Coolant
The coolant system is designed to protect the engine from high temperatures, which will lead to significant damage. As part of our cooling system inspection, we look at the fluid level, inspect the radiator and ensure none of the hoses are leaking.
Fluids
In addition to the oil and coolant, other fluids will also be checked. The brake fluid must be full and clean, while the power steering fluid is also checked for integrity.
Hoses
Throughout the vehicle, there are many metal and rubber hoses that carry the various fluids. Over time, many of these hoses become susceptible to leakage, which could leave you stranded if not repaired promptly.
Air Filter
The air filter keeps debris from reaching the engine. If it becomes clogged, engine performance is reduced and your vehicle runs less efficiently.
Drive Belts
The serpentine belts are responsible for driving many components, such as the alternator, air conditioning compressor and power steering pump. If this belt ages, it can crack, causing these valuable components to stop working.
Battery
The car battery provides the electricity needed to start the engine. It also runs all of the accessories in your car. With a battery voltage test, our technicians can tell how healthy the battery is. We also check the alternator to ensure that the battery can be recharged while the vehicle runs.
Drivetrain Inspection
Engine
The most important check we provide is to the engine. If the motor isn't running right, performance and efficiency will suffer. Our technicians use an OBDII scanner to read any trouble codes that the computer has put out. We can also look at the idle speed to evaluate if any problems exist. Finally, our technicians check the ignition system, including the spark plugs and wires.
Transmission
The transmission needs to send power from the motor to the car's wheels. With an automatic transmission, we check the fluid and ensure a smooth-shifting operation. With a manual transmission, we test the clutch for optimal engagement.
Differential or Transfer Case
The differential splits power coming from the transmission and sends it to the drive wheels, while the transfer case is responsible for supplying power on all- and four-wheel-drive models. We check all of the components for fluid leaks, ensuring there are no bad seals.
Driveshaft
Your driveshaft is responsible for connecting the transmission to the wheels. Depending on what type of drive system the vehicle has, your car will contain U-joints or CV joints. Either way, these parts are inspected for wear, which leads to vibration and noise.
Brake/Fuel Lines
Metal lines are connecting valuable components to the fluid reservoir. Over time, these metal lines begin to corrode, causing leaks and system failure. We look over the brake and fuel system to ensure you aren't left stranded.
Exhaust
We look over the muffler and exhaust system to ensure there are no leaks. Sometimes, an exhaust leak creates a louder noise.
Suspension
Struts/Shocks/Springs
These critical components keep the drive smooth, even when you encounter bumps. We check them for cracks, leaks and signs of wear.
Alignment
Your vehicle is placed on our computerized machine to determine if the wheels are set to the right angles. With a bad alignment, you can expect vibration and tire wear.
Bushings/Ball Joints
When these parts work as they should, the wheels can turn smoothly while the suspension moves up and down as intended. However, they will wear over time, leading to squeaking and clunking sounds. With our inspection, we evaluate signs of worn-out bushings or ball joints to eliminate shaky and loose steering.
Tires
All four tires are checked for air pressure and tread. After all, the tires are the only part of the vehicle that touches the road, so they must be in optimal condition for you to remain safe.
Safety Parts
Horn
We ensure the horn is working before you find yourself needing it.
Seat Belts
The safety restraints are checked in each seat to ensure proper operation.
Brakes
The brake pad condition is vital for stopping your vehicle, but the system is made of many parts that can wear out. Our expert technicians in Provo check the entire system for signs of wear and damage.
Airbags
With our code scanner, we can determine if there are any issues with the airbag system.
Lights
We examine every light on the car for brightness and normal operation. It's simple to replace a bulb when needed.
Windshield Wipers
When the windshield wipers crack or break, you are left with minimal visibility during a rainstorm.If your floor mats don't fit right or aren't installed correctly, they could cause an accident.
Car Interior
Cabin Air Filter
The cabin air filter is responsible for keeping debris and dust out of the HVAC system. If it becomes dirty, you might notice strange smells and a heightened sensitivity to allergens.
HVAC System
We check your air conditioning and heater to ensure you have optimal temperatures in the cabin.
Multipoint Vehicle Inspections FAQs
If you have a car inspection, you gain valuable knowledge about the state of your vehicle. You also learn when your vehicle should be serviced and what problems might be occurring. With this peace of mind, you can rest easy knowing that the vehicle is safeguarded from unexpected breakdowns.
Our Oil Change Multipoint Inspections are FREE with each oil change and our Used Car Multipoint Vehicle Inspections and Trip Check Inspections are extremely affordable. At Cougar Tire & Auto, we think knowing your car and any potential problems it may have is well worth the cost of inspecting it. We also believe prevention is always better than repair, which is why we strive to keep car owners informed about any potential problems that could cost more later.
Our multi-point vehicle inspection only takes about 45 minutes to an hour to complete. From the time you walk in the door to we hand you the keys will be no more than one hour. Alternatively, you can drop off your vehicle any time during normal business hours and we'll have it ready for you to pick up at the time you specify.
Why Cougar Tire & Auto for a Multipoint Vehicle Inspection in Provo?
Cougar Tire has the best-in-class National Service Protection Plan to give you the peace of mind that when we service your vehicle, you are protected and backed up Nationwide.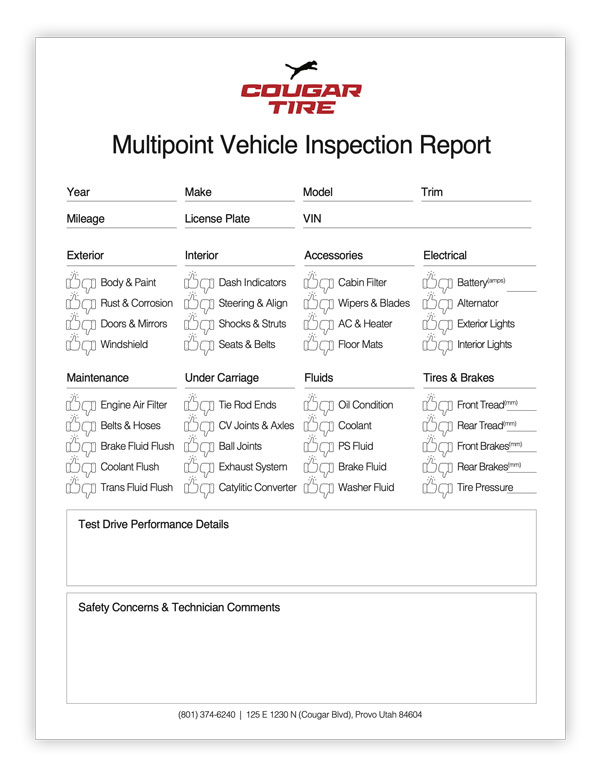 When you bring your vehicle to us for an inspection in Provo, you gain access to top-notch certified technicians that understand the ins and outs of modern vehicles. We never take shortcuts when it comes to your Utah vehicle inspection, because we know that your family is counting on a safe, reliable ride. Why take chances with something as critical as your on-road safety? Visit Cougar Tire & Auto for a complete vehicle inspection and have more on-road confidence.
Free Loaner Cars
Prefer not to wait in our lobby for your free brake check or brake repair services? No problem. Cougar Tire & Auto offers free loaner cars to our Provo customers while we work on your vehicle. Just take one of our cars while we work on yours and come back at a more convenient time for you.
Free Roadside Assistance 24/7: Every purchase you make at Tire Pros – from tire services to repairs – comes with free Roadside Assistance 24 hours a day, 7 days a week. We've always got your back.
Includes:
Free Towing & Lockout service

Free Flat Tire Changing Assistance

Free Fuel & Fluids Delivery

Free Jump Starts